Things have changed dramatically for church leaders in the past 20 years.
The traditional functions of ministry still center on prayer, preaching, visitation, weddings and funerals. Yet, in a digitally connected society of declining church attendance, today's church leaders are expected to know how to communicate across all channels with the savvy of a media pro.
Only recently have seminaries incorporated a marketing component into their curriculum. Seasoned clergy are running a church as they were classically taught but for a very different culture.
As the manager of the Local Church Services team at United Methodist Communications, I speak regularly with pastors who want to communicate relevantly. Their top requests are:
"I need a new website."
"Help me with social media."
"Our church needs a logo."
More than 50% of the requests come from small churches with only a pastor and administrative assistant as staff. They have little to no advertising budget. Yet, they would love a chance to shout "We're here!" to the community.
The tendency for these leaders is to think, "If I just get this one thing (choose one: website/Facebook page/e-newsletter) in place, we'll be standing-room-only."
Occasionally, marketing gets dramatic results. (One small church my team helped this year doubled its attendance after placing a newspaper ad designed for them.) However, that is not the norm. A consistent, measured approach maximizes the potential for sustained growth.
Marketing your church is like putting together a jigsaw puzzle. People can't see your church's story by looking at one piece, but you have to start somewhere. That single piece is the anchor that informs how everything else fits together.
This year, United Methodist Communications marks 80 years of communicating faith. We invite you to help us celebrate!
Basic first steps for small churches
Identify who you are. Many people in a lot of churches have attended the same service with the same people for 20+ years. The question of "who are we" is confusing for leaders and members who usually reply, "We're really friendly and love people."
To the outsiders, a church who declares it loves people is as generic as potato chips labeled "CHIPS" on the bag. It earns the question: What do you mean by "We love people and are friendly?" Aren't all churches supposed to be this way?
In the southern U.S., the church landscape is especially saturated. Most places of worship look just like the one down and across the street. You have to find a way to express what your love looks like to people.
Do you value social justice?
Is grace a focal point of your preaching?
Are you a safe place for wounded Christians?
If your church doesn't define your values and mission toward them, you may be tied to the next gimmicky thing in the church market: drive-thru prayer, free oil changes for single moms, etc.
Marketing grounded in an identity allows you to market all year long, not just when you have a good promotional idea.
Create a logo. Think of the brands you recognize. When you see a logo, you immediately have expectations: Wal-Mart or Sam's is about value. Mercedes is about quality and luxury.
When someone in your community sees your logo, what will they connect with your church? Does it convey what you want it to? Your logo is a foundational piece to all of your marketing. The logo goes on everything from your Facebook page to your bulletin. Consistency signals that everything is connected. People want to be a part of a story. A logo can inspire curiosity about what it's like to be a part of your church's story.
Hire a professional photographer/videographer. This isn't just for the church directory — although those can be fun. People need to see life at your church through the relationships among your people. Prospective visitors look for hope, interaction and acceptance in the people who sit in your pews. Seeing these things represented reduces the anxiety for potential guests.
Why is photography so far up on the priority list? Because you need content for the next two steps.
Ensure you have an updated website. Although some leaders feel that having a Facebook page is enough, an updated website is essential. Both are valuable, but the website is the new front door of the church. It's often scoped out by people before they decide whether to visit. Your website must highlight ministries, tell your story and list times and location. A well-organized and informative website signifies your church is well-established and attuned to the people of your community.
Spruce up your Facebook page. Diversify your content, and focus on your followers. Inspire them with stories, images and conversation rather than asking something of them. Well-designed messages proliferate quickly across social media, potentially reaching followers of followers who may be encouraged to visit. Don't forget to post service times and your location on Facebook.
Get out into the community. Obscurity is your enemy. Get a branded tent, tablecloth and product to every community event you can, and take your people to meet their neighbors. People don't come to church because of a building. And you don't need a building to form connections.
Small churches with limited resources can achieve big results by taking these first steps. United Methodist Communications is here to support you in communicating successfully with your community, whether through guides, training or marketing services.
It's up to us, as church leaders and disciples of Jesus Christ, to proclaim God's endless grace. Effective communication is key, as we seek to cut through the noise and conflict that so often fills our communities — large or small.
UPDATE: See Craig speak more about building an effective marketing foundation (no matter the church size or locale) in this video.
---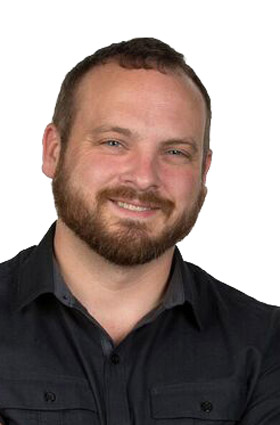 Craig Catlett started out in ministry, got frustrated and left. Craig taught communication in higher ed and got frustrated because he missed ministry. Craig creates communication solutions for churches as the manager of Local Church Services at United Methodist Communications. You can reach out to Craig at [email protected].